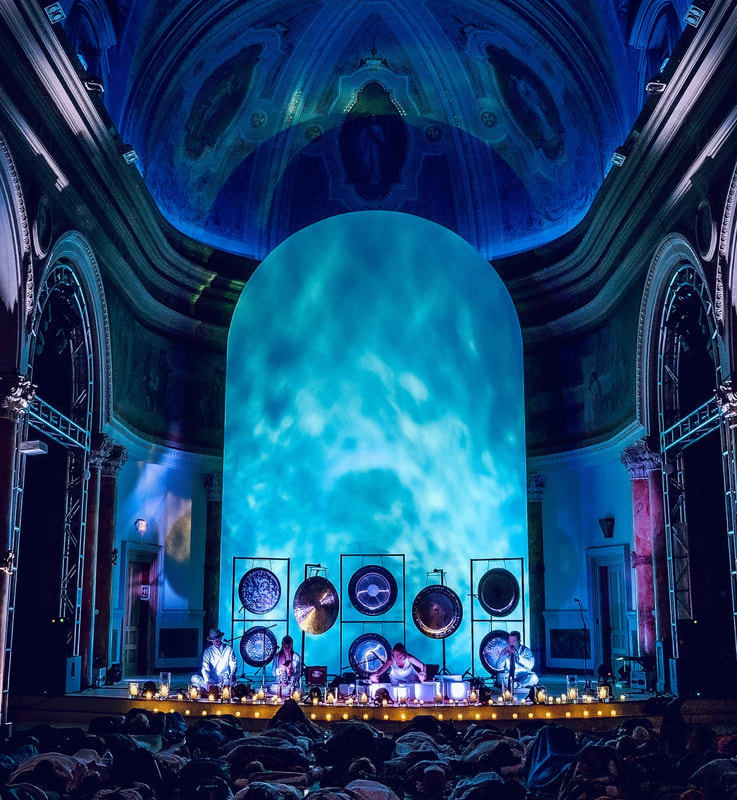 The Sound Mandala Experience
with Loriel Starr & Friends
The Power of Sound for Health and Well-Being
at 906 World Cultural Center
(906 Broadway Street ​San Francisco, CA 94133)
Stay Tuned For Our Next Sound Mandala Experience Event

The Power of Sound for Healing and Well-Being
Featuring Loriel Starr + Special Guests for a Harmonic Ensemble of Gongs, over 30 Ancient and Tibetan Singing Bowls, plus an assortment of ancestral sound healing instruments and sonic delights.
Rest Your Body – Tune Into Your Heart – Expand Your Mind
Each Sound Mandala Experience will take you on a meditative journey into the world of Sound for healing and well-being. You will be bathed in sound waves that transport you into deeply restorative and meditative states with ease as you lie down comfortably. Sound baths are a form of meditation that's very accessible and highly effective for bringing clearing, balancing and harmonization to the body and mind.
Benefits:
● Calm your body's stress cycle
● Rest and restore your nervous system
● Connect with a deep sense of inner peace and well-being
● Boost your natural opiates
● Experience a blissful trance-like state equivalent to a good night's sleep
● Enjoy an internal journey that is visionary and expansive
● Feel greater self-attunement and more "tuned in" to life
Enjoy being bathed in the healing frequencies, rich sonic layers and vibrant overtones of an extraordinary ensemble of sound meditation instruments:
* An Amazing Set of 8 Healing Gongs
* Over 40 ethereal and magical Crystal and Antique Tibetan singing bowls
* An assortment of sonic delights! (Strings, Chimes, Whistling Vessels and more)
IMPORTANT EVENT INFORMATION:
Make sure to bring a yoga mat or blanket (or both) to lie down as well as a second blanket to cover your body for warmth. A pillow for your head or under your knees, an eye covering and a water bottle are additional items that can support your comfort. Dressing in layers is a good idea.
DOORS OPEN AT 7:30 PM – Event will start at 8:00 pm and go to 9:30 pm
PLEASE BE ADVISED: DOORS WILL CLOSE AT 8:00 pm IN ORDER TO SUPPORT THE MEDITATION EXPERIENCE FOR PARTICIPANTS. Please arrive before 8:00 pm.
​Sign up to be the *first to hear* when tickets go LIVE, plus get insider's discounts >>> http://eepurl.com/b7zEG1
Lighting and Deco by Marco Ferrero of Optical Design Concepts
Photo by Kagan Turgut
Each Sound Mandala is a one of a kind experience that you won't want to miss!